"Earth laughs in flowers." – Ralph Waldo Emerson
Creative Group feels like celebrating. Why? Well, spring is in the air, and it's Earth Day! Spring is the eternal harbinger of hope. The first day of spring marks the vernal equinox, a balance of daylight and darkness. And, from there, it only gets better and brighter. With increased light comes increased mood and engendered hope.
Earth Day always seems to hit alongside some serious spring fever – that wonderfully amorphous ailment we recognize in April and May. Finally, a fever we welcome! Spring brings excitement, positivity, and… flowers! After a long slog through the winter months, nothing cheers the soul like a vibrant garden.
To celebrate Earth Day, we highlight three destinations where spring's blooming bounty takes center stage. Check them out and get inspired for your next spring trip!
Bulbs in the Netherlands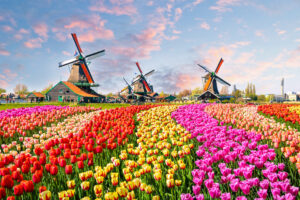 Known as one of the largest flower parades in the world, Bloemencorso Bollenstreek celebrates the arrival of spring with stunning flower arrangements. The parade includes colorful floats adorned with hyacinths, tulips, and daffodils. The springtime parade winds through villages in the bulb region; local musical acts keep the festivities in full bloom!
Floral Fun Fact:  Make a mistake? White tulips mean "I'm sorry."
Beauty in Japan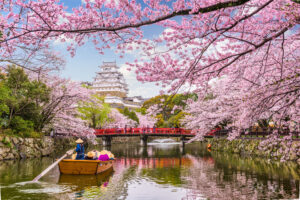 Japan offers plenty of cherry blossom festivals, each showcasing local performances, tea ceremonies, and crafts. One of Japan's liveliest and most popular spots to enjoy the blossoms and accompanying festivities is Ueno Park. This spacious setting in Tokyo is home to more than 1,000 cherry blossom trees, and there is a special illumination viewing each evening.
Floral Fun Fact: Cherry blossoms symbolize renewal.
Buds in Portland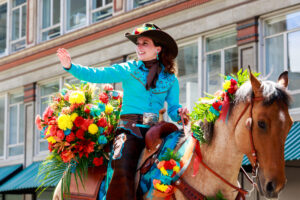 Each year, the City of Roses throws itself a massive party in the form of the Portland Rose Festival. Declared the city's official festival in 2010, the celebration includes more than 60 events, starting in late May and ending with dragon boat races the second weekend of June. Portland's International Rose Test Garden is home to over 10,000 rose bushes of approximately 650 varieties. Check them out and get inspired for a Spring 2022 trip!
Floral Fun Fact: The tiniest rose buds are the size of a grain of rice.
Feeling inspired?