IMEX America is the USA's largest meetings industry trade show—a global event attracting thousands of professionals from the U.S. and internationally. They return to IMEX America for unequaled opportunities for business, networking, and education. With the sheer size of the show, it will be impossible to see all it has to offer in just a few short days, but here are six highlights to check out during the show. All of the IMEX America content originally appears at www.imexamerica.com.
1. Education
Build your skills and career. Learn from industry innovators and spark your imagination. The show's 2016 themes focus on the sharing economy and where personal meets professional. Keen insights and intelligent solutions can be found in the daily keynote presentations and throughout the show floor.
MPI keynotes
Kicking off on Smart Monday, every morning at IMEX America starts with a discovery in the Sands Showroom. MPI presents bold, innovative daily keynote speakers from both inside and outside the meeting and event industry, exposing you to a wide range of business experts whose presentations deliver inspiring ideas and serious business solutions.
Monday keynote: Jonathan Bradshaw
Meetology®—the fascinating science powering interpersonal communication
Tuesday keynote: Jay Samit
Disrupt you! Strategies for billion-dollar success in this era of endless innovation
Wednesday keynote: Pablos Holman
Innovate or die trying, from the mind of a world-renown hacker
Thursday keynote: Tami Evans
Half full of it: activating optimism and other hard-core soft skills
2. Networking Events
SITE Nite North America
The Hottest Ticket in Las Vegas – 1200 SITE members and industry professionals join together for an evening of networking with the best and brightest. Ticket sales help raise funds for the SITE Foundation. Attendees are invited to Shine Bright in their most colorful clothes. Wear bright colors to this year's event and help light up the Omnia Nightclub at the industry's biggest party.
DMC Network & Ovation 4th Annual Talent Search
If last year's performances are anything to go by, guests will be in for a show-stopping, talent-laden night. Visit the DMC Ovation Network website for more information. Must visit IMEX booth #2627 to pick up event credentials.
Rendezvous, the IMEX America Night
Give back to your industry while having the night of your life! Held at Drai's Beach Club and Nightclub, Rendezvous will feature IMEX America buyers and suppliers from around the world. It's the ultimate who's who event and the prime opportunity to expand your network by connecting with the industry's best and brightest. Purchase your tickets today for an unforgettable networking experience.
3. Exhibits
The contests, drawings, and prizes are limitless at IMEX America. Win everything from hotel stays and airline tickets, the hottest merchandise, and even Hamilton the Musical tickets. Join happy hours, partake in virtual reality experiences, and enjoy breakfast in bed! Click the exhibit link to see daily activities and prizes.
4. Social Responsibility
Garbage Grabbers – Clean-Up in Las Vegas is a new project in which IMEX America is working with the Outside Las Vegas Foundation, the premier volunteer coordination group for nature and the outdoors in southern Nevada. On Monday, October 17, volunteers attending the IMEX week are invited to join IMEX America staff and Las Vegas residents in an organized clean-up of walking trails and parks.
#GreenCaffeine  – Bring your reusable travel cup to IMEX America. Share a photo of your drink on Twitter or Instagram. Tag it with #GreenCaffeine & IMEX16 to win prizes.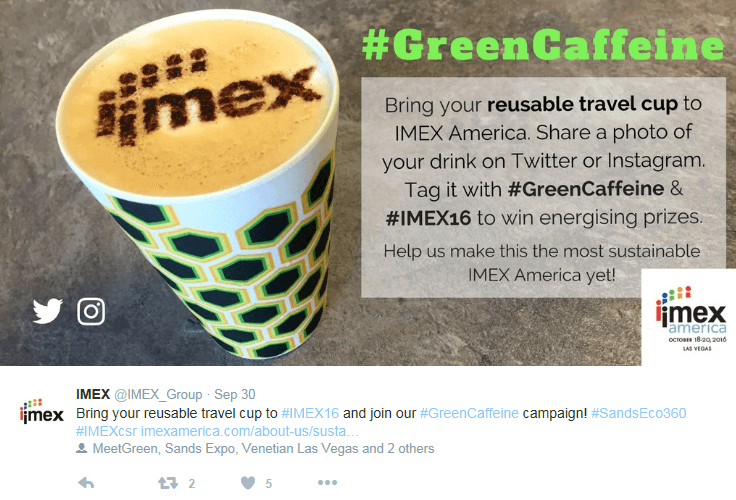 5. Start-Ups
On October 18, 2016, the #IMEXpitch allowed event technology startups to showcase their products at no cost to an audience of event planners. Together with an independent judging panel of event technology industry experts, five finalists will compete in a live head-to-head pitch at the Inspiration Hub on the IMEX America show floor. The winner, chosen on the day in front of our live audience of up to 60—after all five five-minute pitches, receives free exhibition space in the Technology Pavilion at next year's show as well as media support and PR coverage. Products are judged on their practicality, their innovative use of technology, their ease of implementation, user adoption to date, how they stand out from other event technology—and how sustainable the startup's business model is. The independent judging panel all work with event technology every day and are always looking out for the latest developments.
6. Be Well
Part of the "where personal meets professional" theme, join Be Well at IMEX to feel refreshed and revived in Vegas—and to pick up ideas on incorporating wellbeing into your meetings and events.
Drop into guided visualization and meditation in the Be Well Lounge
Head to the Inspiration Hub for health and wellbeing education
Choose healthy food and drink from F&B outlets and exhibitors' booths
Walk to the show
Join the 5k IMEXrun developed by Case Imagine
"Paws for a Break" with some canine cuddling on Smart Monday
To fully take advantage of all well-being initiatives available at IMEX America, download our new Be Well Guide, and prepare to feel invigorated!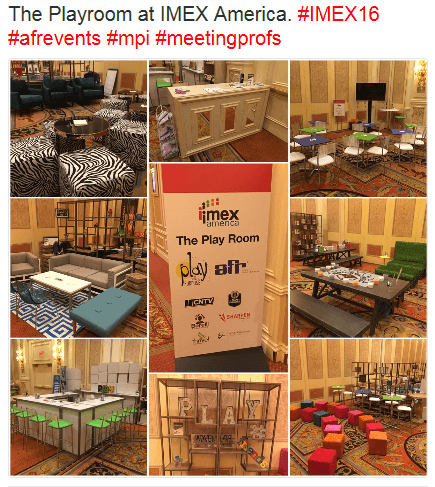 We hope this week proves to be as informative and fun as it has in the past for all those involved. And even if you can't attend IMEX in person, follow the hashtag #IMEX16 for all the latest happenings in Las Vegas and check back soon for key learnings from the show.
Let's get in touch.